News
Glastechnik Kirste powered by green electricity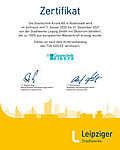 Glastechnik Kirste KG is contributing to CO2 reduction and the improvement of Thüringia's environmental performance by purchasing green energy. Some of the company processes are very energy intensive.
Hydropower is one of the most important renewable energy sources, alongside solar and wind energy, and it is forecast that it will become increasingly important in the next few years.
Hydropower generation is considered particularly beneficial, since neither harmful emissions nor waste products are produced.
With this in mind, Glastechnik Kirste KG has decided to purchase green electricity from Stadtwerke Leipzig GmbH from January 2020 to 31 December 2021, which is generated 100% from European hydropower.
On the one hand, this is important for the environmental impact of the company due to the significant energy requirements of parts of the production chain. On the other hand, the company also regards a reduced environmental impact as a positive message to our customers.


---